Sharing another roundup of frequently asked questions in this week's Ask Sabrina series!
1. What's your favorite bag right now?
I've been really loving my Loewe Small Puzzle. It's the perfect size for me – not mini but not too big. Love that the shoulder strap is adjustable. I have a couple of the Mini Puzzle Bags and love those too, but the Small is a lot more practical! There are a few different formats in the puzzle, for material they have grained and smooth. So far I've only tried the grained which I like for the finish. They have softened quite a bit since I got them for a slightly more slouchy look.
Top: Reformation, Shorts: Agolde, Bag: Loewe Small Puzzle Sand (grained), Sunglasses: Celine
I've also seen on a few YouTube videos that Loewe is going to phase out the current puzzle style and start making them all the Puzzle Edge like this one. I don't know if this is true or not, but I just searched for the styles/colors I have and they are pretty hard to find now (at least online).
I really love all things from Loewe, I'm considering a Small Puzzle Edge or Compact Hammock for my next splurge.
2. Best raffia bag?
I have quite a few by now and love them all. Each one serves a different purpose (ie size/shape/color). The two I've used the most are the Loewe Shell Basket (small) which I think may be discontinued now and Square Raffia Basket.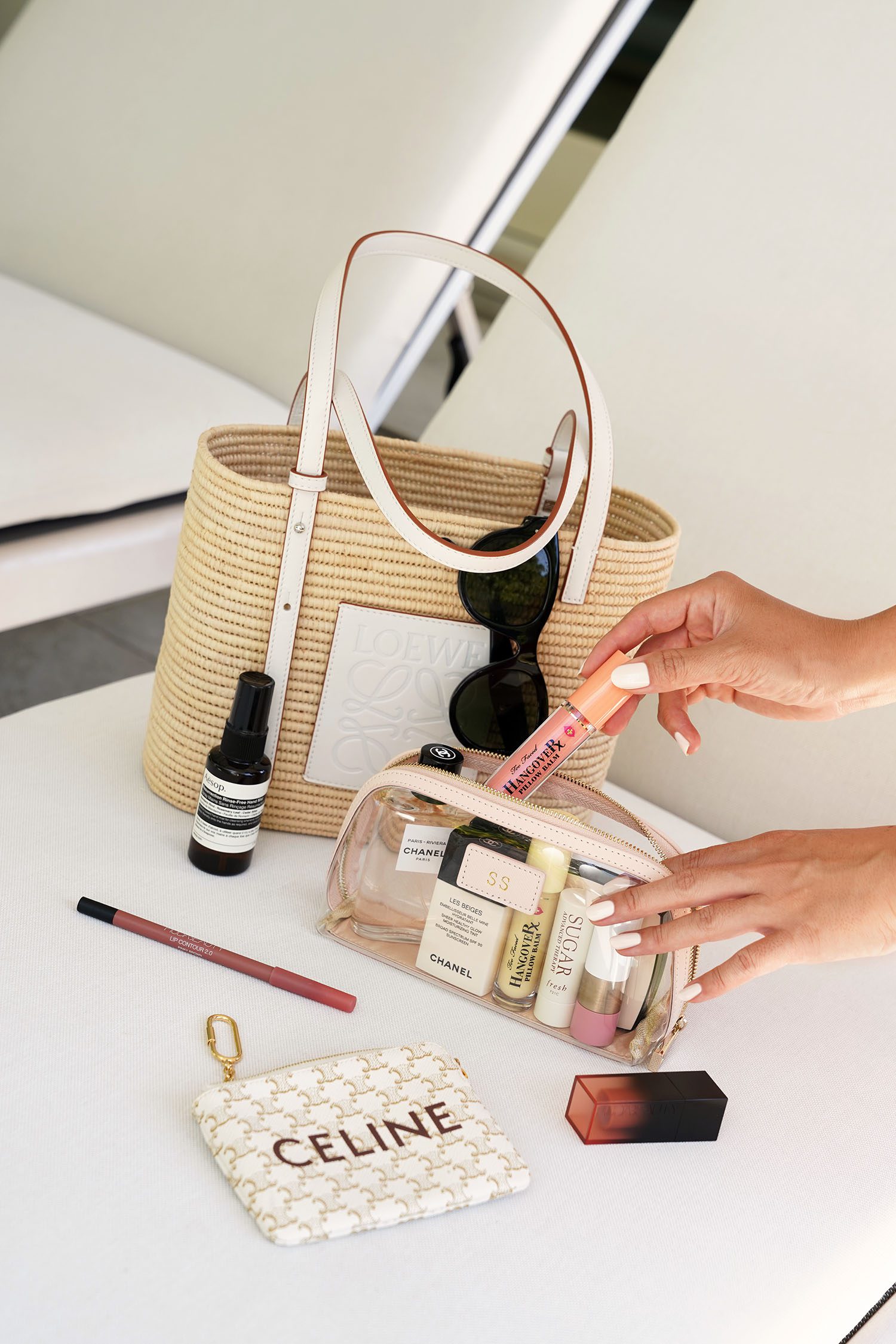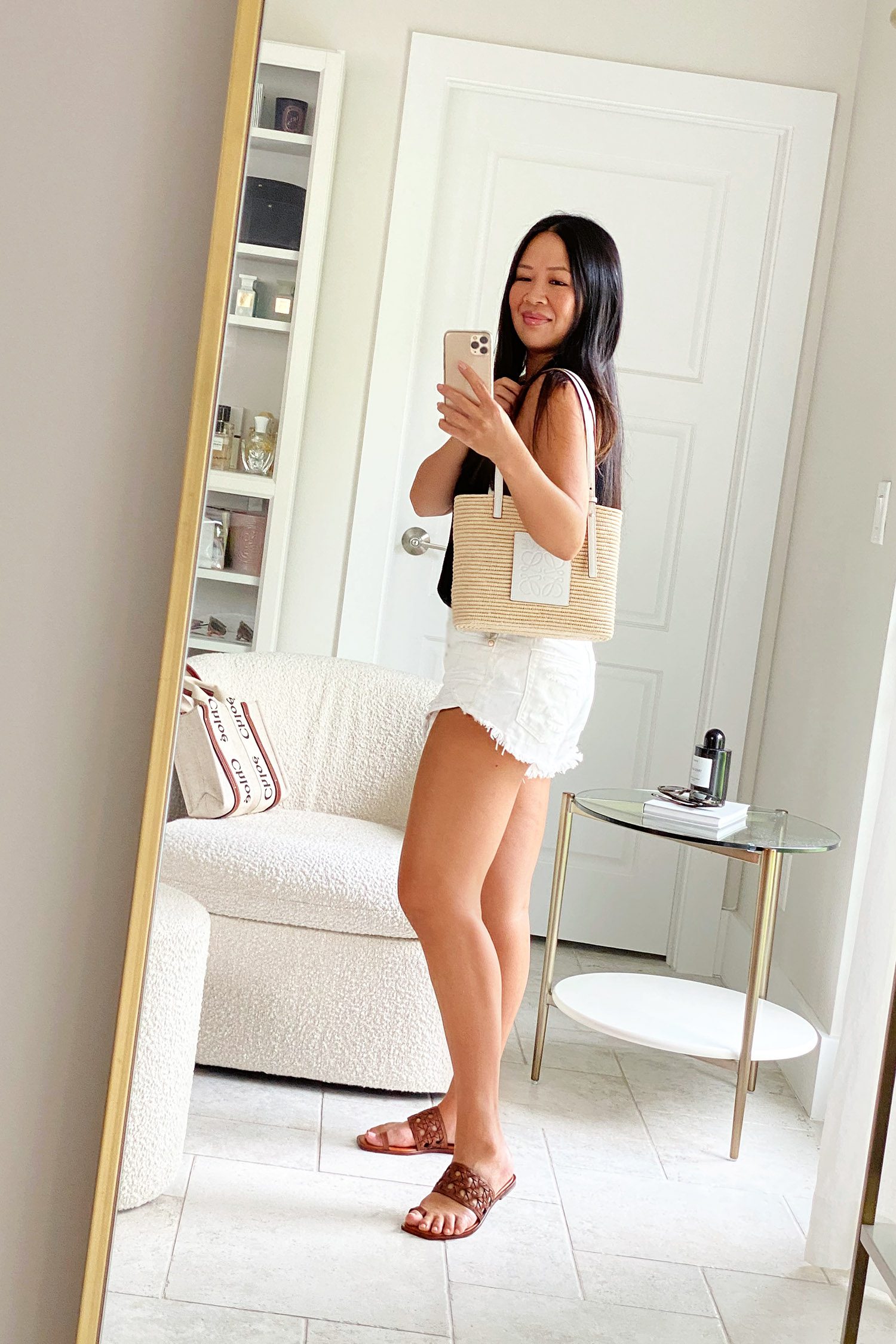 3. What is your favorite movie?
It's hard to pick just one! My favorite movie of all time is Elf. I could probably watch it every week and laugh until I cry every single time. I also love all the Harry Potter movies, When Harry Met Sally, Love Actually and Notting Hill. We recently re-watched all the Bridget Jones movies and I thought they were hilarious.
4. TV show recommendations?
This is a follow up from my poll from you! I'm really happy to hear a lot of you watch the same British crime dramas we watch. I have to confess they are really more Andrew's favorites but I have slowly become addicted. Popular picks from you have been Line of Duty, Midsomer Murders, Happy Valley, Bay (we watched those too!).
We are currently watching The Tower Season 2 and tonight we will probably finish Hijack. We are also working our way watching re-runs of 30 Rock.
Recent shows I've really enjoyed: Ted Lasso, Silo, Night Sky, Queen's Gambit, Only Murders, Hijack, White Lotus (Season 1 was better than Season 2). Black Mirror is pretty good although some episodes are a bit too disturbing.
Older shows I loved: The Office, Fleabag, Breaking Bad, Better Call Saul, Yellowstone (although we did not finish the last season), Modern Love, Movies That Made Us and I thought Severance was pretty good. I know I'm forgetting tons of great shows on this list.
The Top 10 Shows you recommended (in order of popularity): The Bear, Succession, Ted Lasso, Shrinking, Suits, Silo, Beef, And Just Like That, Jack Ryan and Black Mirror. (I really wanted to love And Just Like That but I couldn't even finish the first episode.)
5. You mentioned you're not a reader but like podcasts. What podcasts do you listen to?
I am still exploring and I haven't found a series that I like every single episode yet. A lot of the podcasts I have bookmarked are over an hour long so it takes me a while to finish them. I think there are quite a few I've started but never finished. Two I've been really enjoying are the All-In Podcast and Diary of a CEO.
6. Best wedding lipstick follow-up – your responses surprised me!
Another follow-up from my poll and your responses surprised me! About 1/3 of the responses were "not married or not married yet" and another 1/3 said "didn't have a wedding." For the longest time I have felt like I was the only one who did not have a wedding ceremony. Both Andrew and I feel truly lucky to have found each other and we are very happy, but a huge part of me feels like we missed out by not having a wedding. Hearing that a lot of you also skipped the wedding makes me feel so much better.
From the remaining 1/3 who responded most of you did not remember what lipstick you wore on your wedding day. For those who did the top 3 brands were Charlotte Tilbury, Tom Ford and MAC. These were the most worn colors according to you
Charlotte Tilbury Very Victoria, Nude Kate, Pillow Talk
MAC Sweetie, Twig, Velvet Teddy, Whirl
Tom Ford Indian Rose, First Time, Blush Nude, Sugar Glider
7. Best shampoo and conditioner follow-up – your responses/feedback!
Hundreds of you responded and your favorite brand is Oribe by a huge landslide! There are lots of different formulas among your favorites but the Gold Lust Shampoo and Conditioner seemed to be the most popular as I think it should be! It's hands down my favorite and the one I repurchase the most. The Gold Lust Set ($102) is still available for the Nordstrom Anniversary Sale thru the 6th at the sale price. I just bought one to stock up.
8. Do you think you'll ever stop blogging and just do social media?
I've thought about this for years. A lot of you have asked if I'll move to YouTube versus the blog too. I really don't know! I'm always evolving and changing and I hope to continue to do so! The Beauty Lookbook has been a labor of love and something I enjoy but it takes a lot of time. I really do love that I own my website and all the content I produce is my own. I would love to just focus on one platform but they are all so different. I've blogged for so long I don't see myself giving it up any time soon, but who knows?! I'd love to do YouTube. However creating video content is still really challenging for me and it takes a lot of time to create/edit. I don't know that I can.
9. Are you doing any other anti-aging cosmetic treatments outside of Botox? Which cosmetic procedure are you considering next?
I'm currently not doing any cosmetic procedures other than the Botox treatment from May. I'm the biggest chicken when it comes to any level of pain or discomfort. I can't even look at a needle on TV without feeling like I'm going to faint. I would like to get a peel but it's so hot and the sun is so intense, I don't think my skin can handle it right now. Based on what I've read I don't think I'll ever get filler, it sounds too painful.
10. One last thing, not really an answer to any question, but Kitty turns 11 today! He's been with us so long and we love him so much.
RIP Jake and Lucy xoxo
That wraps up this week's Ask Sabrina roundup! Stay tuned for the next one in a couple of weeks!