Happy Friday! Wanted to share some things I bought and loved recently. I've posted a lot of these on Instagram but know some of you mainly read the blog (or may have missed my stories).
Marble 2-Tier Tower
I love repurposing home decor trays and marble cheese boards for beauty displays. I spotted this Marble and Brass 2-Tier Stand and thought it would be perfect to display perfume and products I reach for frequently. It's reasonably priced especially for the hefty marble slabs it comes with.
It is very sturdy but very heavy so I recommend finding a more permanent place for it because it is not easy to move. Mine did not come with feet protectors and I think the stand could potentially scratch your table or counter if you move it. I plan on ordering a few felt or rubber stick-ons for the bottom.
Storage ideas in action here!
Jewelry Cleaner
I have been cleaning my jewelry with a tiny soft brush and jewelry cleaner for years. I spotted this Ultra Sonic Jewelry Cleaner on TikTok and ordered it immediately. I love it. I don't know if it's the best one out there as I didn't do much research on the options out there. I love that it's compact and doesn't take up a lot of storage or counter space. It's super easy to use.
Simply put warm water (I put in hot water, but not boiling) in it and push the button and it does it's thing. Jewelry looks super sparkly. I was really surprised how much debris was at the bottom. You can also put in glasses, sunglasses etc. I put in some hair clips and they had so much residue from product and my fingers in the grooves. They came out perfectly clean.
Acrylic Round Organizer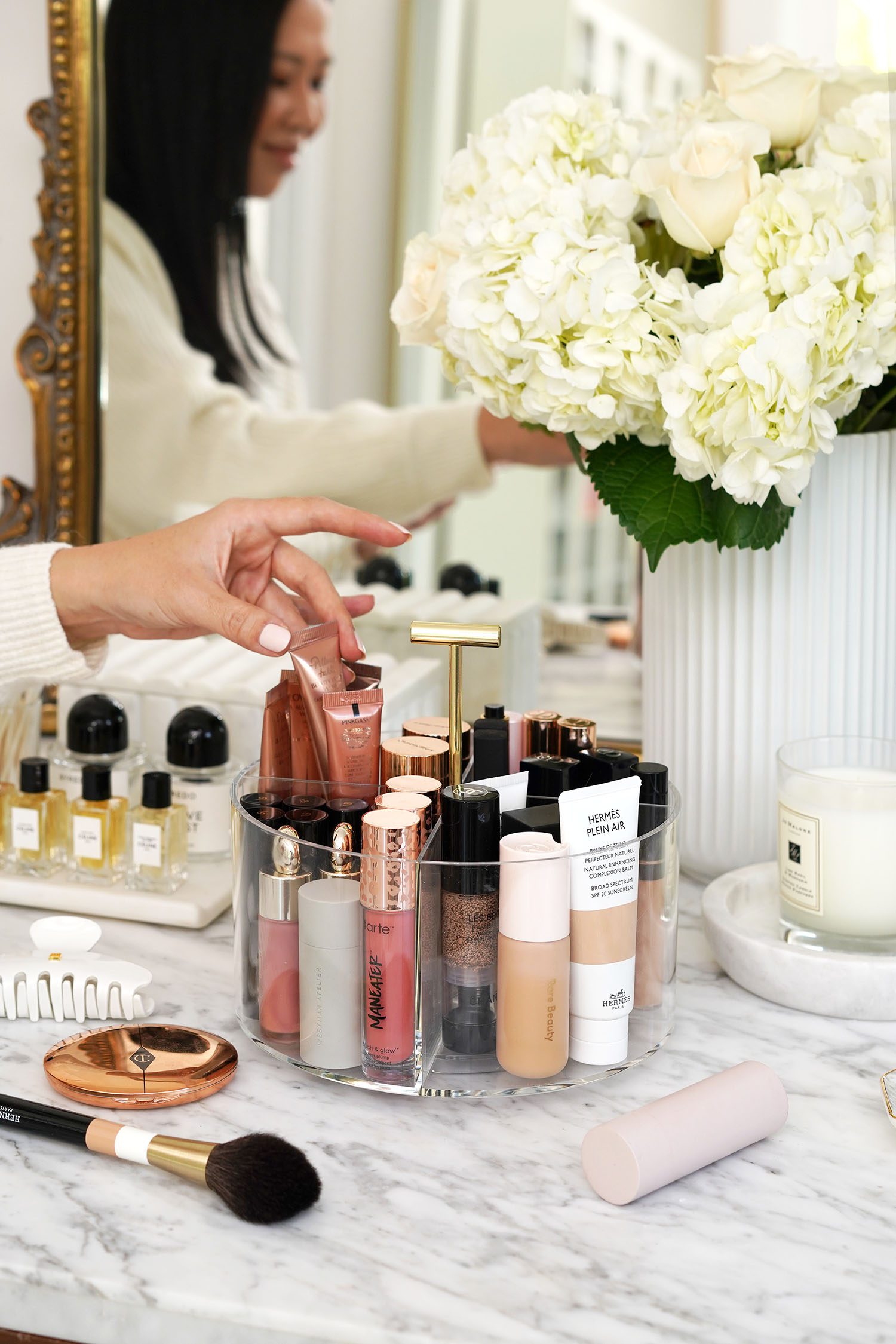 I shared these spinning organizers before but just ordered a couple more from Target. I like them for mascara, pencils, those Tarte Maracuja Juicy Lips (my collection is out of control), brushes, etc.
Hair Clips
You girls know I love those Balmain Hair Couture Clips. I think they're really well made, streamlined and the quality is SO much better than the average clip but they're very expensive!
My bestie messaged me and asked if I had any from Emi Jay. I did not but she said I needed them so I ordered a few. The quality is exceptionally good. I do wish they had more small or medium sizes available as most of the clips are in the Big Effing Claw Clips Size but I think they're really well made.
I also ordered some Machete Clips to try. I love the clips although they're not all the same thickness/quality. The Midi, Grande or Twin Heirlooms are really well made and thick/sturdy. I love the size of the Minis but they're thinner which is still very good but not as good as the others.
Tissue Box / Tray
These two aren't new but I get asked so often about them I thought I'd link them again. I love these simple Tissue Box Covers to elevate the look of your home. I have them in the white and grey and think they're really well made.
This Quartz Catchall is one of the most beautiful trays I own. We have several around the home (night stands, living room, my office). Anytime I share something on stories I get dozens of messages asking for a link.
Sunglasses
I've been meaning to do a sunglasses roundup but haven't gotten around to it. I still really love the ones from Tom Ford I bought from the Nordstrom Anniversary Sale. The Alistair 56 mm Gradient Sunglasses in the Red Havana are my favorite. The Milla 59 mm Gradient Aviators are the ones you girls have loved the most (I bought them in the brown and blue lens). Sale ends on the 6th.
For designer sunglasses the Celine Triomphe 52 mm Oval Sunglasses in the Black and Brown are my most-worn sunnies. For a more classic look I splurged on the Celine 3 Bold Dots Style 50 mm size and really love them. If you want a bigger lens they also have it in a 54 mm size but I have not seen/tried those in person for comparison.
Favorite Shoes Right Now
It seems like it's always sandal season in Florida but this year I haven't really been wearing sandals that much. I've been living in sneakers – probably because of walkies with Ollie. They're more comfortable and it's easier to walk in grass or the dog park with sneakers vs open toe shoes.
I tried to find a dupe for the Celine Low Top Trainers and the New Balance 480s are pretty good (they run TTS). They're not as cushiony or comfortable in the sole but for the price they're great. (For me they are definitely walking shoes and not running shoes.)
I also shared a few other styles a few weeks ago and thought I'd post them here.
Lash Combo Primer + Mascara
One last shout out for recent buys is a beauty find. I have tried so many mascara primers which are great for thickening and volume, but I haven't found one that holds the curl until now. I bought the Too Faced Better than Sex Foreplay Mascara Primer and I love it. It's a thinner formula so you only need a thin coat but it really helps mascara adhere and holds the curl. I've been pairing it with the YSL Lash Clash Mascara.
July Beauty Favorites
Last but not least, I did not have time to blog my July Beauty Favorites but I did a roundup with everything linked here including my favorite base, favorite concealer and more. Everything is also linked here.
What have you been loving lately?