Happy Monday! I'm doing a Q&A from the questions you submitted last week. It was fun reading through all the questions! I've picked 10 questions to answer. It has been a couple of years since I last did this type of post, perhaps I should start it up again? Let me know!
1) Have you and Andrew considered relocating to Miami since you visit so much? Would you go back to live in SoCal?
I feel like many of you may have read my mind on this as this is one of the most frequently asked questions I receive! Andrew and I are moving to Miami or San Diego hopefully this year. We've actually been traveling to Miami so frequently for this reason. We've been looking for a place since December. Currently narrowing down the specific area to move to – there are so many options, each with different pros and cons for what we are looking for. San Diego has also been an option we've talked about to be closer to my family and our friends back home.
Currently exploring our options with both cities and we will keep you posted!
2) Favorite current luxury handbag? Best crossbody bag? Best raffia bag? Next splurge?
Oooh this is a tough one! I rotate frequently but would say my top 3 are the Bottega Mini Loop, Loewe Mini Puzzle and Celine Pico Belt Bag (review here). All of these are cross body. Each style is also carried in larger options with straps if super minis aren't your style.
I think Loewe raffia bags are my favorite. I've gotten a lot of use out of the Shell Basket (small). For a larger beach tote I'm in love with the Anagram Basket in Ochre (medium).
What's my next purchase? I'm very happy with my collection right now. However I have had my eye on the Bottega Arco Tote or Loewe Mini Flamenco.
Bottega Mini Loop in White
Celine Pico Belt Bag in Light Taupe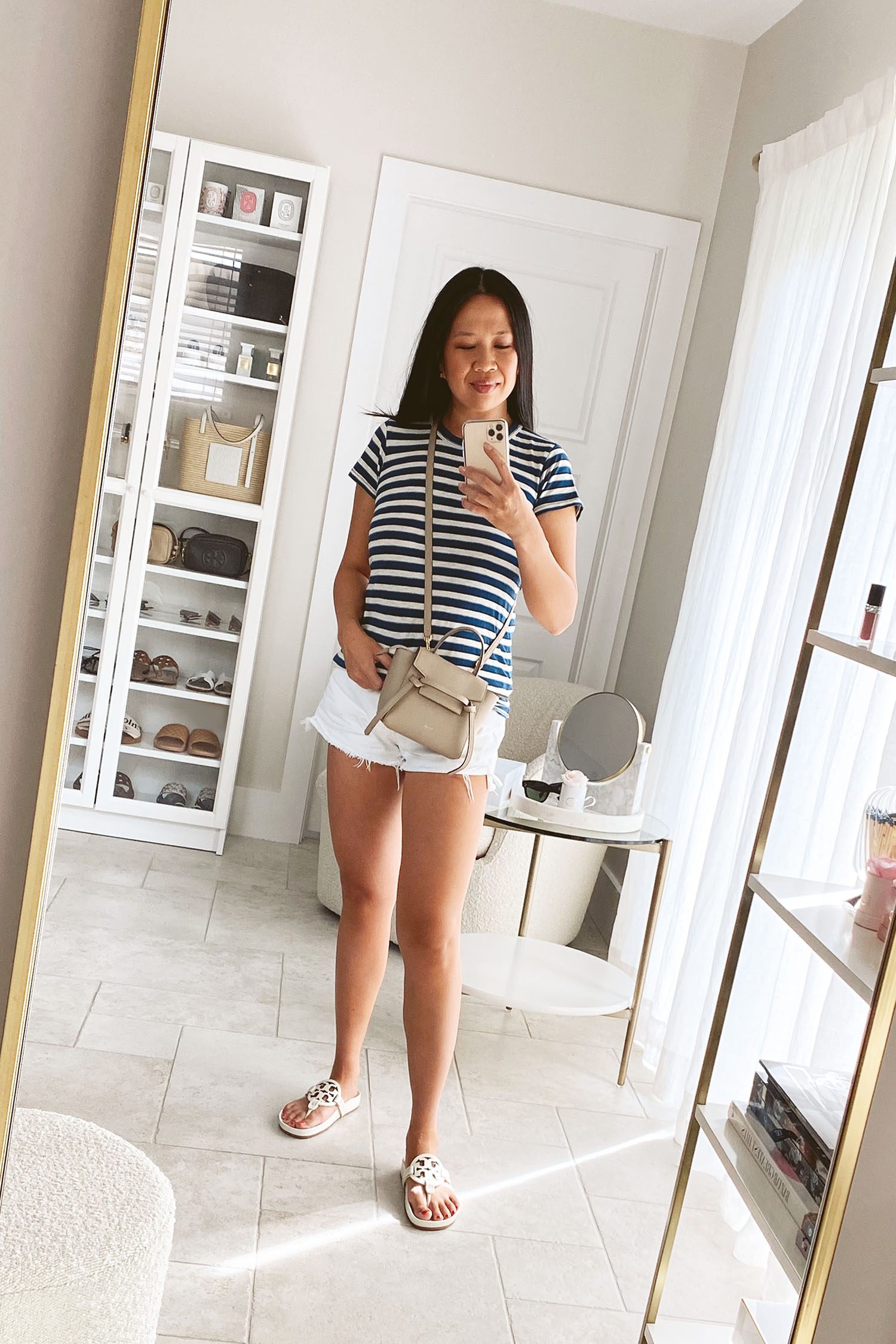 Loewe Shell Basket (small)
Loewe Anagram Basket
3) Best walking shoes when on vacation?
I love APL Techloom Breeze Sneakers or New Balance 327 (also love these) or the 524. Both are very comfortable and aren't too thick/heavy so your feet can breathe. Leather sneakers are easier to keep clean/maintain but I try to save those for cooler weather as my feet get sweaty.
4) Favorite travel moment / trip?
So many great travel memories for me! I have two favorites. The best travel memory I have was a trip to Oxford England in 2001. I went to Oxford on a study abroad trip in college one summer and made friends that have become lifelong friends. I met my best friend on this trip (we were roomies) and I also met my future husband on this trip (Andrew was one of the TAs).
I would say the best trip I've been on was a month long Europe trip Andrew and I took back in 2015. We would love to go back to Europe for an extended trip. Probably not this year since we are planning a move. Hopefully in 2024!
5) How do you find places to travel with your fur babies?
Ollie has been really easy to travel with and we love it! So far we've only taken him with us to Miami which is close to us and super dog friendly. We haven't taken him on a plane yet as we are not sure if he will fit under the seat for a carry on pet. Kitty has come with us to Miami a couple times but he does not like car rides at all.
It was pretty difficult to travel with Jake and Lucy. The Jack Russell breed is very energetic and they don't always play well with others. They were always very competitive with each other, I had to take them on walks separately. They also couldn't see one leave the house without the other so I had to distract one pup and quickly sneak out with the other dog. We did take them on a few road trips and we had fun but it was a lot of work.
When they were young we brought them on a road trip from San Diego to Seattle for Andrew's work for around 1 week. They had fun in a lot of parks! We also drove Jake, Lucy and Kitty across country from San Diego to Tampa when we moved which took around 5 days. Finding dog friendly hotels on the road was a challenge. All three also travelled from Tampa to Louisville (and back) when we evacuated for a hurricane one year.
6) What is your exercise routine?
I'm embarrassed to admit I have been neglecting my exercise routine for months. It's currently very sporadic but when we were exercising regularly Andrew and I did weight training 3-5 times per week with cardio mixed in. We found a great a trainer and worked with him for the past 3 years. Our exercises are split by category, one category per workout: Push Day, Pull Day, Leg Day. Sometimes we add in a shoulder day or active recovery day.
We also have a treadmill and assault bike. I'm getting back into it. Right now my chest and triceps are really sore from my last workout a couple days ago. I've been interested in trying Pilates but am not sure I have the core strength to do it.
7) What are your favorite make-up looks for a beach day? My eye make-up always runs.
My beach makeup has evolved over the years to be more minimalist. I'll use the Supergoop! Glow Screen or Chanel CC Cream (which I am hoping comes back in stock). Sometimes I will set with a lightweight pressed powder. Add a tiny bit of cream bronzer like the Chanel Les Beiges Healthy Glow Cream Bronzer or Tower 28 Sculptino (I like Getty).
For eyes if I do wear makeup it's a cream shadow stick like the Bobbi Brown Long-Wear Cream Shadow Stick (I wear Golden Amber or Golden Pink the most). Some of the darker shades can be smudged along the lash line to double as liner. I rarely wear liner or mascara because no matter how "long-wear" it is, products simply don't hold up to REAL humidity or heat.
For the best longwear eyeliners I really like the Tarte Quick Stick Eyeliner or the Sisley Phyto Liner Matte.
If you need a little color/bronze glow I love mixing in the Drunk Elephant D-Bronzi Serum Drops with moisturizer or using it all over the face.
I love a good lip oil or tinted balm. Top two right now are the Hermes Lip Oils (reviewed and swatched here) and NARS Afterglow Sensual Shine (swatched here).
8) What a good tinted moisturizer (Chanel cc cream is sold out!!)?
I'm still waiting for it to come back too! I was told at a store that Chanel is reformulating it but I don't know for sure if it is. Nothing is as good, but some other alternatives I like are the Supergoop! CC Screen, Summer Fridays Sheer Skin Tint (I'm in between Shade 4 and 5), Caliray Freedreaming Blurring Skin Tint (I wear Shade 6), Tower 28 SunnyDays SPF30 (I wear 35 Point Dume), and the Too Faced Born This Way Healthy Glow Skin Tint (I wear Warm Beige).
I like the Too Faced the best.
9) How are you liking Botox now that you've tried it? Will you do it again?
I love it. I'm glad I finally did it. I'm still terrified of needles but I know it's something I can manage. Trolls have been telling me to fix my face for years – well I finally fixed it. It's not the reason I did it though, it's been on my list for years. I just nearly pass out at the thought of needles. If you want more I've saved the details to my BOTOX Instagram Highlights.
For those who don't use Instagram I had a Botox injection for the first time ever at age 42. The areas that were done included my forehead and 11s with nearly 40 units. We went to @marissathepa for our first Botox injection ever and I highly recommend her. Andrew got Botox too!
I have been overwhelmed with the positive feedback! So many of you were cheering me on! I am really touched that many of you shared your personal experiences, procedures, frequency, pricing etc. It still makes me a little sad that this is something many of you are not comfortable sharing or talking about openly because of negative judgement from others.
We were both very happy with the results, the feeling and sensation just takes getting used to. The first two weeks I could not move my forehead and it was so relaxed I felt like I had to strain to open my eyes a little. Feedback from many of you was to get 30 units next time for more movement. My deep set lines disappeared on my forehead and in the 11 area.
The one month mark will be this Saturday and I'll do my next update then. I'm not sure if we will be doing this every 3 or 6 months. Some say they can do it 1x per year. Many of you messaged me that it only lasts 3 months for most of you. If you have any questions please feel free to email or DM me.
10) Best new beauty buy/launch of 2023?
Another tough one! If you count Botox as a beauty buy I think that was my best purchase this year. For new launches I have been really impressed with the La Mer Moisturizing Soft Cream. They reformulated it this year and it's been my absolute favorite skincare item. I still have some left of the original formula and definitely notice the new one absorbs better into the skin, feels better and just overall works better.
For something that is TRULY new (as in not a reformulation or repromote) I love the Tom Ford Eyeshadow Palette in Golden Hour. I have not reviewed/swatched it but you can see it in action here. I also think the Dior Solar Body Oil is just beautiful.
The new Armani Luminous Silk Glow Blush is one of the best blush formulas I've tried. I have Shade 51 in action here. I just bought a few more. It has a soft buildable texture with the best natural kind of glow.
That wraps up this week's Ask Sabrina! If you have any more let me know in the comments or you can always email me!