Rare Beauty launched new glosses called the Soft Pinch Tinted Lip Oils ($20) in eight shades and they've taken over my social media feed. I really love how they hyped this up with some really fun looking events and I think the product is truly unique. They're available now at Sephora and today they just restocked most of the shades.
The Rare Beauty Soft Pinch Tinted Lip Oils are a gel to oil formula with a stain. They have a beveled sponge tip applicator and glide on the lips with a weightless balmy feel. Once applied the formula feels almost like it thickens into a gel finish. I think the shades are beautiful for a bold lip lover. On me I think they're fun and different from what I normally wear, however because these are more like stains to me, the colors darken on my lips.
A lot of stains in general tend to darken or shift in color on me once they set and these definitely look darker on me compared to what I've seen on anyone else. Lasting power is really good with these. If you're into lighter to medium neutrals these might be too dramatic/bold for you in which case I'd recommend checking out her Kind Words Matte Lipstick (review here) which has a lot of great lighter neutrals.
I hauled five shades:
Hope is a bright but lighter pink
Happy is a bright deeper pink
Wonder is a deeper pink rose
Serenity is a warm orange rose
Honesty is a brown neutral
Below I'm wearing the Rare Beauty Positive Light Tinted Moisturizer in 32N and the Always an Optimist Soft Radiance Setting Powder in Medium Light. Eyeshadow is the Natasha Denona Mini Nude Palette.
All side by side: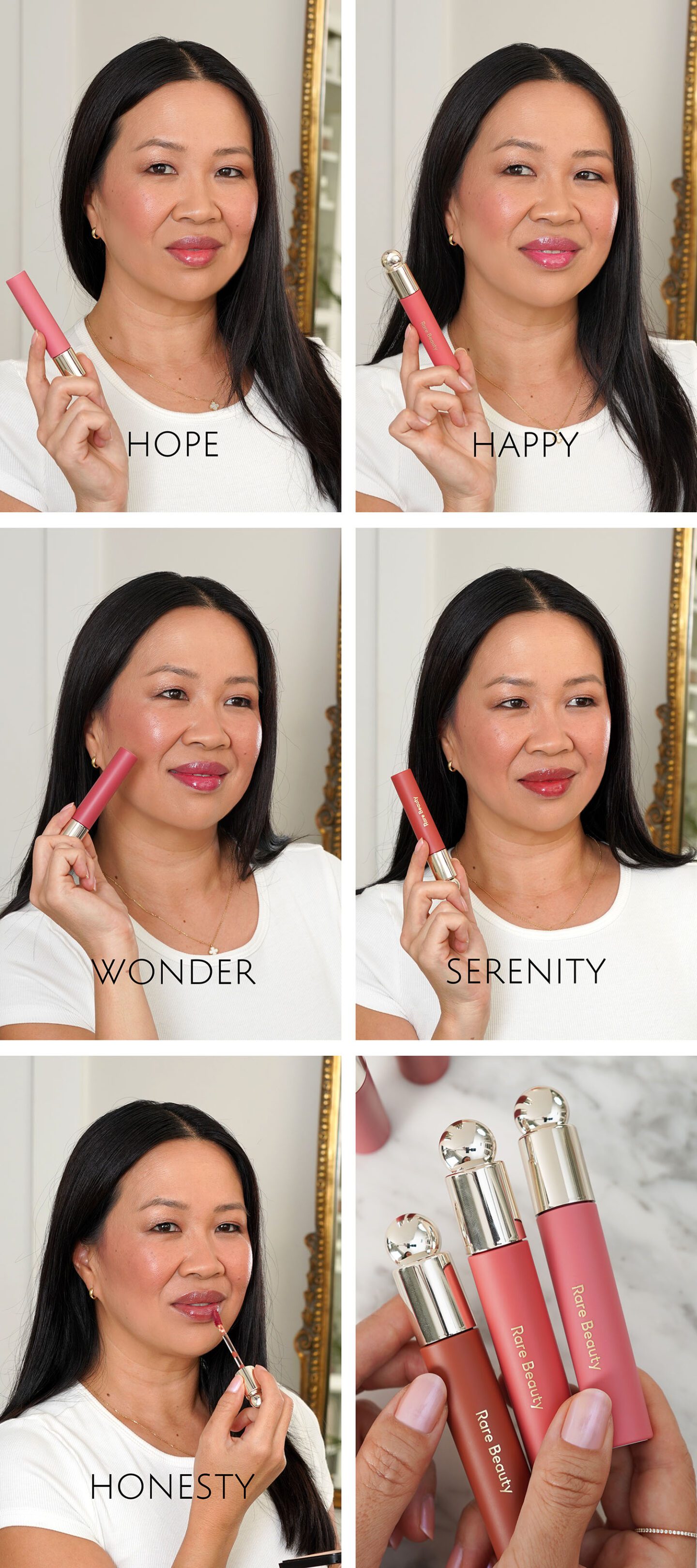 Since the Sephora Savings Event is right around the corner (starts this Friday for Rouge Members) I thought I'd add some more thoughts about other Rare Beauty items I've tried.
The Rare Beauty Positive Light Tinted Moisturizer is one of my favorite tinted moisturizers I've tried. Has SPF 20, offers medium natural coverage but isn't too dewy or emollient. I really like the formula and it blends easily on the skin with a beautyblender sponge.
The Always an Optimist Soft Radiance Setting Powder in Light Medium is a nice lightweight powder. After testing a wider range of formulas I'll say this isn't my favorite but it's very good. I really like her Always An Optimist Powder Brush. It's well made, fluffy and soft.
The Warm Wishes Effortless Bronzer sticks are some of my favorite bronzer/contour in a cream format. They glide on beautifully on the skin and I like that they are neutral-to-warm in undertone making it easier for me to wear. They are very easy to blend. I added a few more contour swatch comparisons to the LYS No Limits Cream Bronzer (another great formula), Westman Atelier Face Contour Stick and the Tower 28 Sculptino Bronzer in Getty.
The Soft Pinch Liquid Blushes are incredibly popular and as far as liquid blushes go these are some of the most pigmented shades I've tried. I only need one dot on each cheek to give enough color. Based on how little product you need I feel like these are going to last the rest of my life. I think the colors are really pretty and for a liquid product the lasting power is pretty good.
The Positive Light Liquid Luminizers are also really beautiful. The shimmer drydown looks intense in the swatches below but they are actually really easy to blend out on the skin for a more natural less sharp look. I like Flaunt the best but the colors in the range are all stunning. I added a few other swatches next to the Charlotte Tilbury Beauty Light Wands and Anastasia Beverly Hills Highlighter Hot Sand which has a softer glow.
In case you missed it I've linked the Kind Words Matte Lipstick and Lip Liner review here too.
Overall I give the Soft Pinch Tinted Lip Oils a solid A+ formula-wise. I think the colors are fun for a more bold vibrant lip look. The Sephora Savings Event starts on Friday and the sale access dates and code to use are as follows, use code SAVENOW to save during these dates:
4/14-4/17: Rouge Early Access: 20% off
4/18-4/24: VIB Preferred Access: 15% off
4/18-4/24: All Tiers: 10% off
30% off Sephora Collection for everyone
If you're not yet a Beauty Insider you can sign up for free here. I'll have my sale recommendations up very soon!
SHOP THE POST

You can find these Lip Oils now at Sephora.